Certified Documented Information Specialist
Who is a Certified Documented Information Specialist?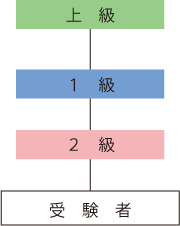 This certification scheme was organized by the Japan Image and Information Management Association (JIIMA) and has been offered since 2001. There are three class levels: Senior, Class I and Class II. To date, more than 14,000 people have acquired this certification!
The certification exams assess one's abilities in scanner preservation, chiefly for paper-based documents used in business offices, ledger data, transaction and expense slips, technical materials, diagrams, etc., in technologies using microfilm. The focus is on the efficient and secure long-term storage of large volumes of documents and one's knowledge of the relevant laws and standards, etc.
An aspect of the knowledge necessary in taking the Documented Information Specialist certification exam is the document lifecycle from creation to storage and disposition, the types and rules of documents created by each business department in a business enterprise, the various laws pertaining to document storage and the various schemes and handling methods for documents handled in the computer network, including email. A large portion of the information is extremely important to absorb simply as common sense, especially for newer employees.
Validity of the Certification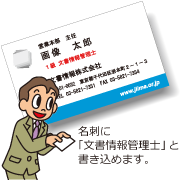 The E-Document Act, enacted by a lobby led by JIIMA, underwent drastic deregulation related to the scanner preservation of tax-related documents as part of major tax framework reforms in FY2015. These reforms lifted the requirement of the paper-based preservation of documents and permitted the preservation of many types of documents as digitized data (data created by scanning paper documents).
However, digitization and the secure preservation of documents must be executed following certain standards. Designation as a Certified Documented Information Specialist identifies the holder as an expert who understands the optimal methods for the electronic preservation of documents and who can communicate the importance of such documents.
The Knowledge Necessary in Document Information Management…
How can documents preserved securely?
Is it true that document management is vital to business continuity?
Why and how can personal information leak?
What are the laws and standards related to document management?
These are questions that we face frequently in document information management. The widespread use of the Internet has made it easy for us to unwittingly become perpetrators of a crime. Document information management is an important factor in the safety and security of business enterprises and private individuals.
Certification: A Requirement for Bidding in Many National and Local Government Projects
Digitization and microfilming of document information is an important job not only for business enterprises but also for national government offices and local governments.
The Certified Documented Information Specialist qualification has become a requirement for entering bids in digitization projects of the Cabinet Office, Ministry of Finance, Ministry of Foreign Affairs, Ministry of Defense, Ministry of Land, Infrastructure, Transportation and Tourism (MLIT), Ministry of Education, Culture, Sports, Science and Technology, Ministry of Health, Labour and Welfare, National Tax Agency, Board of Audit of Japan, Imperial Household Agency, Japan Meteorological Agency, Japan Coast Guard, etc., various regional taxation bureaus, MLIT regional development bureaus, etc., National Diet Library, National Archives of Japan, the Bank of Japan, Japan Pension Service, and various other incorporated administrative agencies, as well as nearly all prefectural governments and municipal governments.