Introduction
With the establishment of the Act on Special Provisions concerning Preservation Methods for Books and Documents Related to National Tax Prepared by Means of Computers (Electronic Book Preservation Act) in 1998, computer-created books and records that previously had to be printed out on paper could be preserved under the Act as electronic data under certain provisions. With its revision in 2005, the preservation of paper-based documents as electronic data (scanner preservation) was allowed.
However, scanner preservation involves requirements such as the use of electronic signatures and, in the case of contracts and receipts, there was a restriction in value to 30,000 yen or less. For this reason, the scanner preservation scheme had been rarely used. With the revision of the Act in 2015, deregulation advanced and these restrictions were removed.
Due to the lack of clarity in the requirements set forth by the Electronic Book Preservation Act regarding scanner preservation, some of the software marketed commercially fell short of the requirements of the Act, leading to the risk of inadequacies being identified by the taxation authorities during tax inspections.
The Certification Scheme of Scanner Preservation Software for Statutory Requirements Under the Electronic Book Preservation Act is focused on the inspection of commercially available software for scanner preservation and certifies products that satisfy the statutory requirements.
Objective
The functional specifications of the software for scanner preservation of tax-related documents are inspected in accordance with the Electronic Book Preservation Act. Products that JIIMA determines as satisfying statutory requirements are certified. This enables business enterprises to use software products safely without the need to check each requirement whether it complies with the Act.
Certification Scheme
In software certification, the functions of the product published in its user manual, handling instructions, etc., are inspected by a neutral, third-party body. After confirmation that all of the necessary functions are found in the product, the results are deliberated by the Certification Audit Committee, followed by certification of the product. The list of certified products is published on the JIIMA website; the list of certified products also is submitted to the National Tax Agency.
Certified Products
Products that are certified to satisfy the statutory requirements for scanner preservation software under the Electronic Book Preservation Act now bear a logo similar to those below.
Under Criteria Effective
Until the 2019 Revision of the Act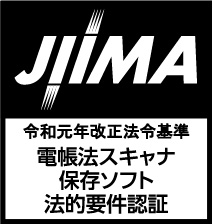 Under criteria of the 2021 revision and later: Type A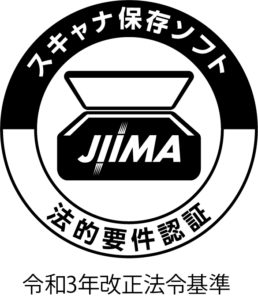 Under criteria of the 2021 revision and later: Type B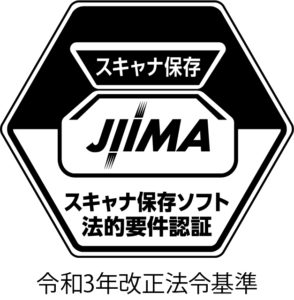 This certification scheme is aimed at evaluation and verification based strictly on certification criteria, whether the scanner preservation software possesses the functions required under the Electronic Book Preservation Act, related enforcement ordinances, government notices, etc., solely from information found in the user manuals of the product. It does not provide a warranty for any other matter.