Evaluation of Document Management Attainment Level
Introduction
Document management is being administered by business enterprises in order to respond to social demands, such as internal control and accountability. However, it is difficult to measure one's own organization's document management practices and to determine what is adequate and what is insufficient.
JIIMA's Document Information Management Committee has developed evaluation criteria for the attainment level in document management, which can be used for self-evaluation at this level.
The evaluation criteria for this document management attainment level have been established to evaluate the level of document management at each business enterprise.
Objective
The evaluation helps compare the document management levels of various businesses.
Not only can this help assess the strengths and weaknesses of each business enterprise, it can also assist in identifying their respective business directions, which in turn leads to better document management.
The comparison of the attainment levels of various enterprises is expected to incentivize business enterprises to promote document management.
Additionally, re-evaluation after a certain period of time enables the degree of improvement in an organization.
What Goes On When Document Management Is Working
Document
Lifecycle
Desirable State
Creation
A document worthy of being the enterprise's document [1] is created and created properly through an official documentation procedure [2]. Note [1]: "A document worthy of being the enterprise's document" refers to a document that will not damage the reputation of the enterprise when it is disclosed or published to comply with an order to disclose information or to submit the document. For this reason, it must be created as a "forward-looking" and "protective" document. Note [2]: Recognition as an official document (document that has been approved, i.e., a document that leads to action by the enterprise) that is gained with the approval of an immediate superior officer (person who checks document creation) and the head of the department (officer in charge of document creation).
Processing & Distribution to Designated Parties
Disclosure only to the necessary number of persons, in accordance with business need ("need to know" criteria).
Preservation and Storage
Documents and records are managed by sorting them separately [3].Documents and records are being stored for the required preservation period without fail.The locations of paper-based documents and electronic (or scanned) documents [4] are identified and available for the search, viewing and use not only by the persons in charge but also other authorized persons. Note [3]: "Sorting separately" refers to management methods such as being sorted in cabinets and shelves in the case of paper-based documents. In warehouse storage, documents may be managed by sorting into storage boxes. Electronic and scanned documents can be managed by being separated by system or folder. Note [4]: In the case of paper-based documents, "identifying the location" refers to being able to locate instantly in which cabinet, storage box, and/or warehouse a specific document is located. In the case of electronic (or scanned) documents, this not only clearly identifies the document management system used, but also instantly shows the location of the folder/documents within the system.
Disposition
Documents and records with preservation periods that have expired are disposed of immediately.Disposition (or scheduled disposition) of each paper and electronic (scanned) document is identified clearly [5]. Note [5]: This refers to the time when the preservation of the paper or electronic (digitized) document expires and the number of years the document in question has been preserved. Also, a record should show who disposed of the document and what time the document was disposed of.
To Implement Document Management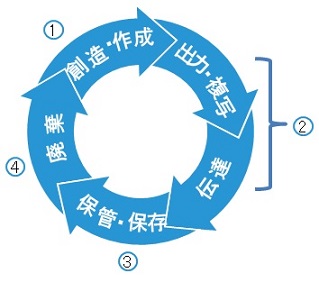 1. Create the Document Properly
Create a forward-looking and protective document.
Add attributes, such as the creator, approving officer, etc., clearly.
Follow the approval procedure.
2. Communicate Properly
Communicate to the persons who must be communicated to.
Exercise special caution in handling confidential information.
3. Store and Preserve Properly
The location of the storage/preservation can be identified clearly.
Documents are searchable and usable immediately.
Appropriate access rights are applied to confidential documents, etc.
Documents are stored and preserved for the designated period of time.
4. Dispose of Properly
Documents are preserved for the designated period of time and disposed of without fail.
Documents are disposed of without information leakage.
Keep a record of the disposition.
Approaches to the Development of Evaluation Measures on the Document Management Attainment Level
The approaches to be taken in measuring the state of document management comprise organized action, document management rules and action by the business department.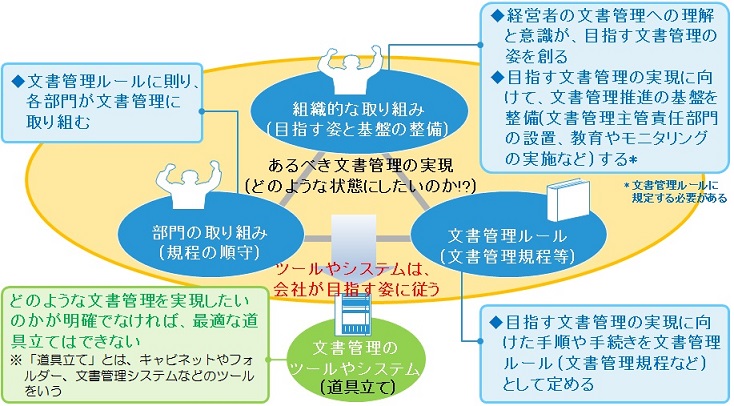 Document Lifecycle