Study Books for the Document Information Manager Examination
General Theory of Document Information Management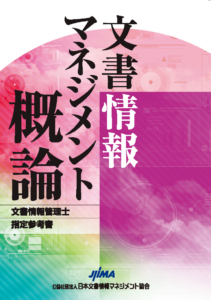 Ed. JIIMA; B5 Size
1st Edition: October 2019
3rd Edition: October 2022
Introduction to Microfilming in the Digital Age

Ed. JIIMA; B5 size
Published April 2011 (1st Edition)
Document Management Standardization Guidebook 2017

Ed. JIIMA; B5 size
Published April 2017
Action on 2021 Tax Scheme Reform
E-Document Act Boosts Efficiency and Compliance
? Fast Facts on Digitization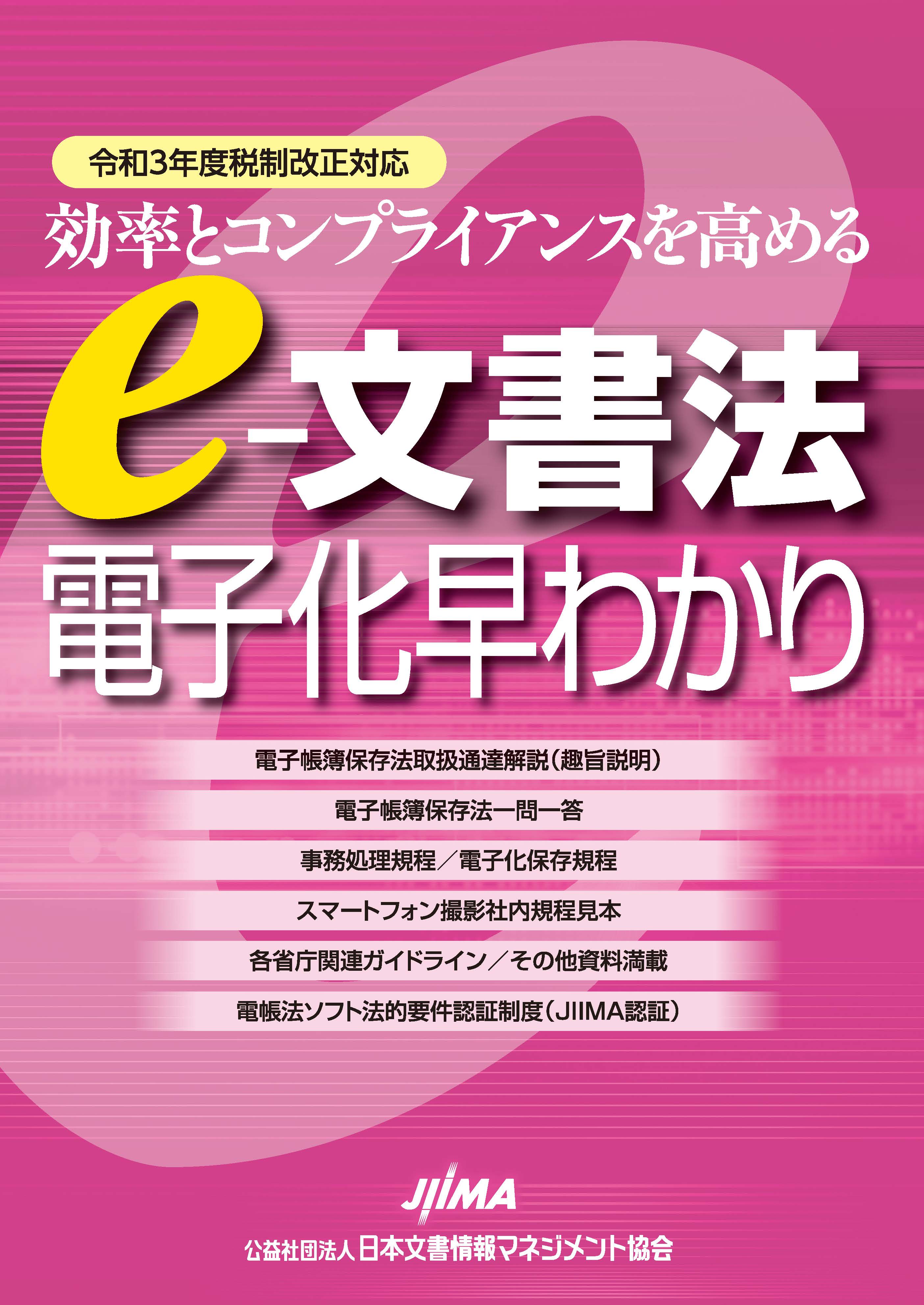 Ed. JIIMA; B5 size
Published February 2022 (1st Edition)
Description of Books and Periodicals Related to Document Management
Documents: How to Select/Build the Record Management System

Published by: JIIMA B5 size; 86 pages
Published October 2013 (Version 1.0)
Periodicals
In-House Journal ? IM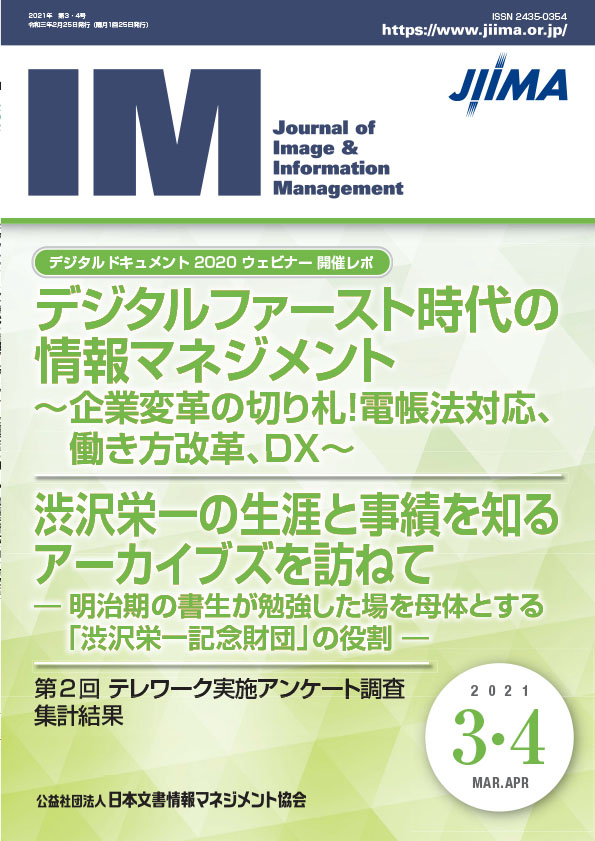 Issued Bimonthly
Reports, Guidelines, Etc.
Report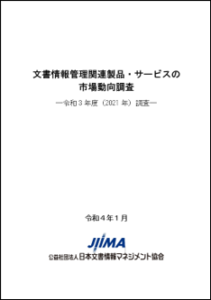 2021 Report on the Document Information Management Related Products and Services Market
Please note that reproducing or reprinting all or part of the Report is a violation of the rights of JIIMA and the research organization, unless approved by law. Please inquire with JIIMA if interested in additional copies.
Guidelines and Commentaries
Guidelines on Digitization, Preservation and Management of Taxation-related Documents (Ver. 4) ? Compliant with FY2015 and FY2016 Law Amendments Ed. JIIMA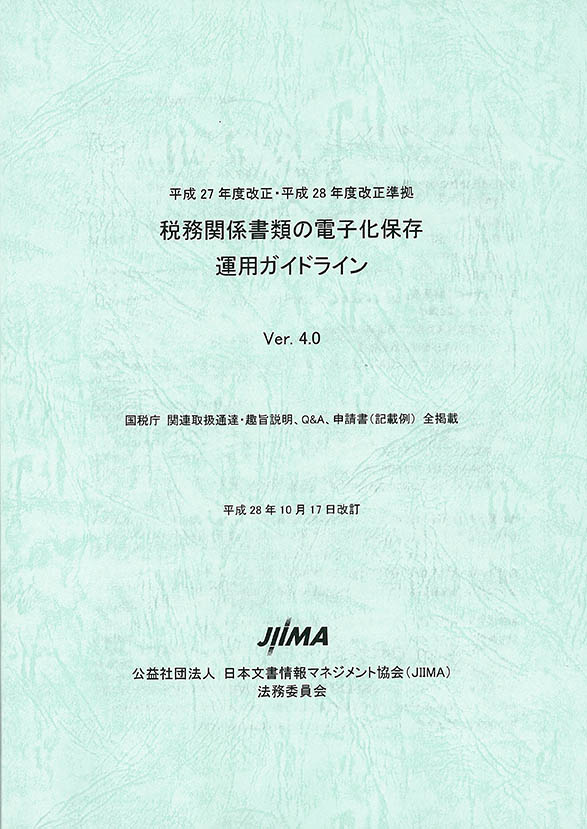 Revised October 2016
Guidelines on Handling Scanned Documents:
Policy on Legal Admissibility of Scanned Documents As Evidence [Detailed Version V2.1]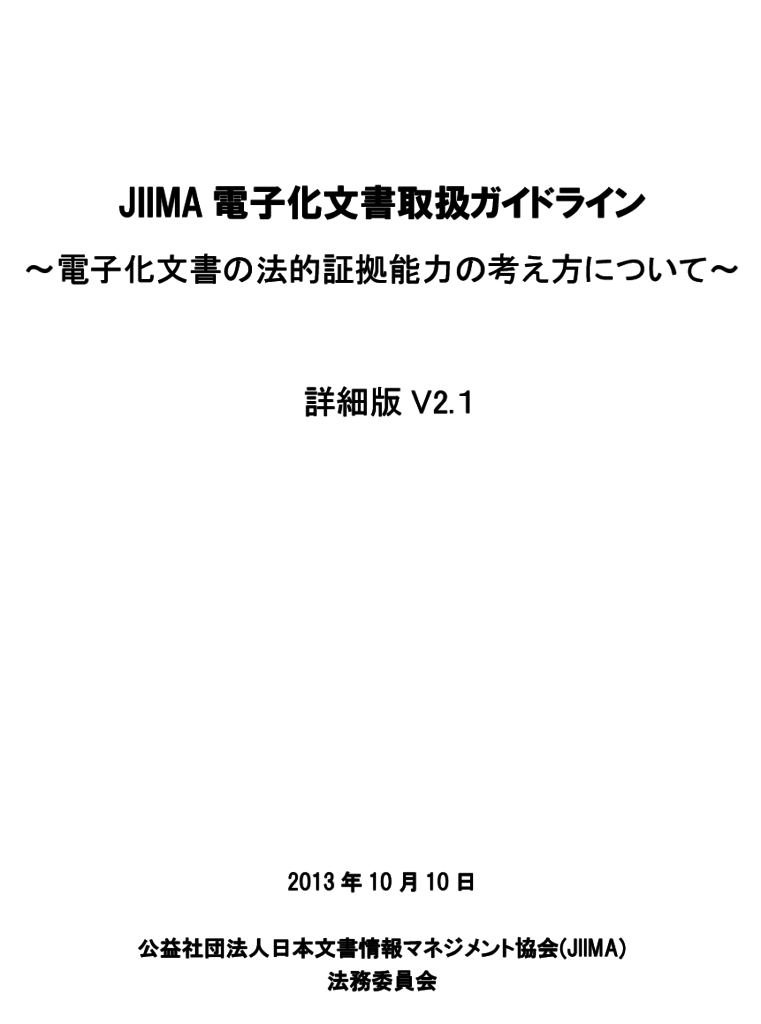 Revised October 2013
Detailed commentary on the Summary Version found on the webpage. Measures to reinforce legal admissibility of scanned documents are shown along with practical cases of application.
Guidelines on Preservation with Digital Micro-Archives: Edition 1 Preservation of Paper Documents in Digital Micro-Archives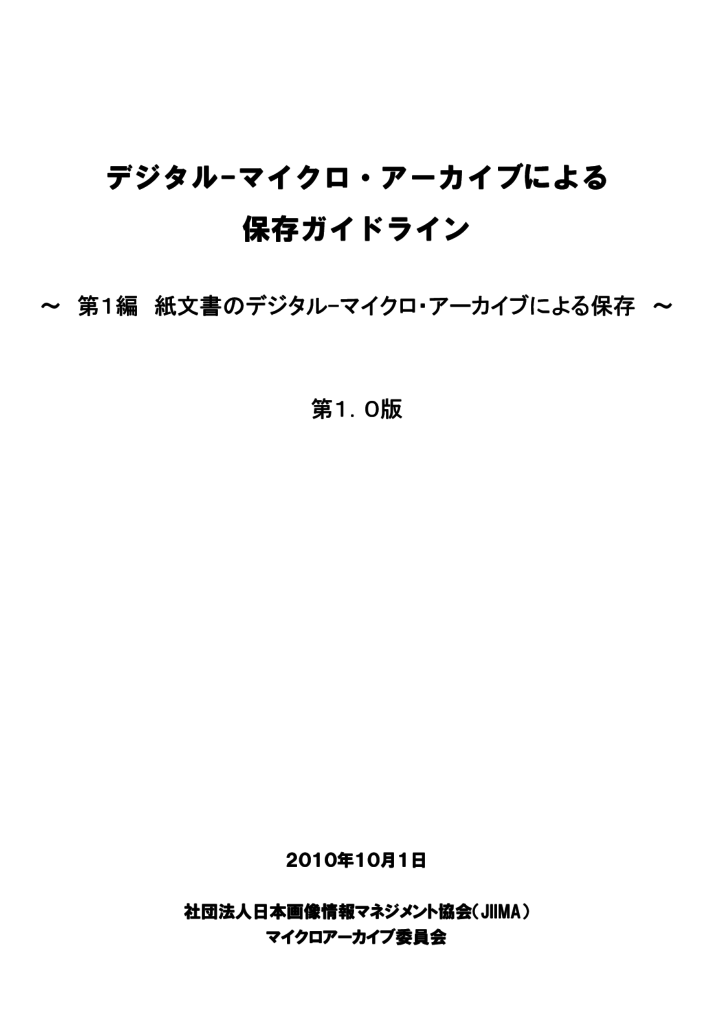 Published October 2011
The guidelines set forth the process of creating microfilm from paper documents digitized into electronic documents, with attention to the long-term preservation of electronic data under ISO 11506.
Set of Booklets and CDs on Image Compression Guidelines for Scanned Documents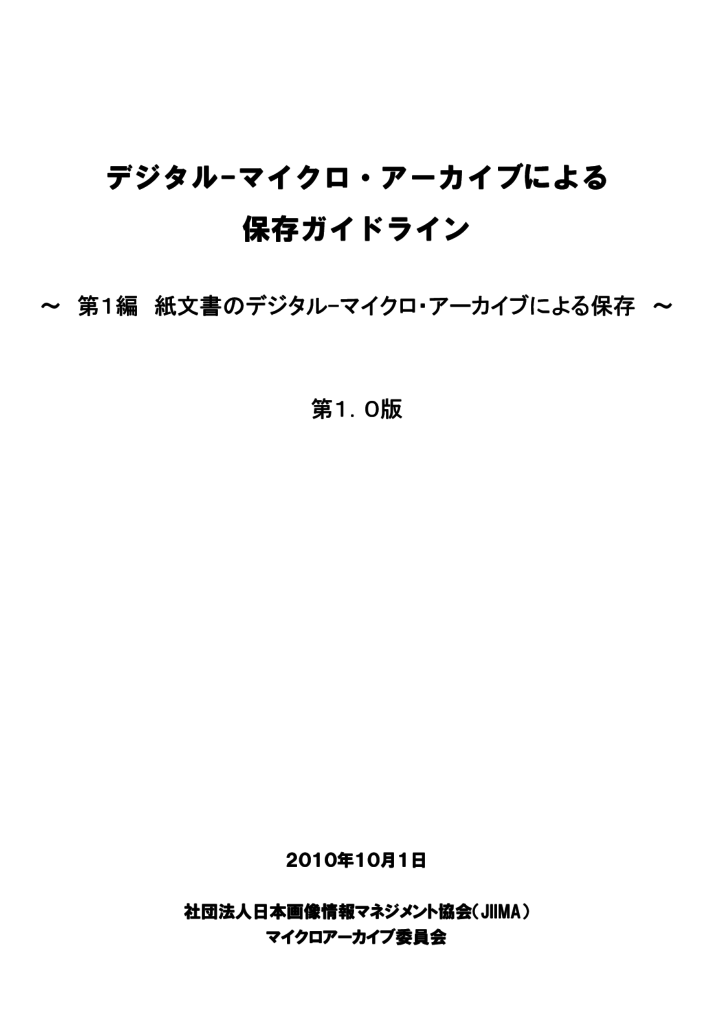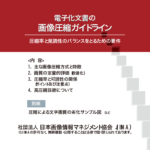 Published by: Ed. JIIMA Standardization Committee/JIS Subcommittee
Test Chart
Scanner Evaluation Test Chart (Compliant with ISO 12653-3)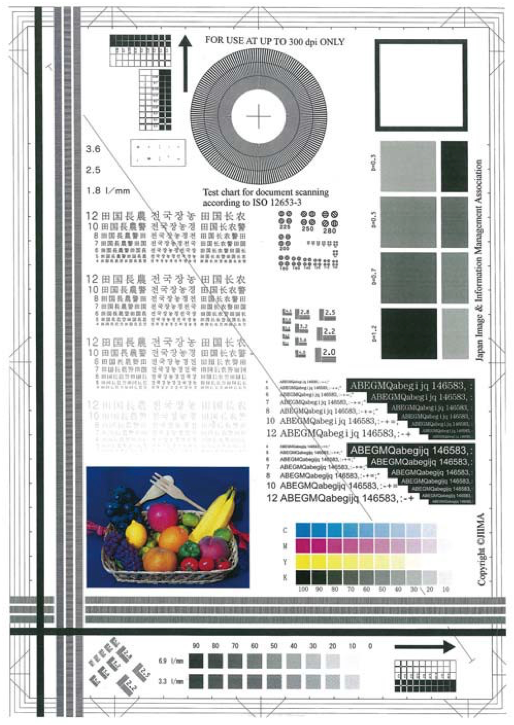 International standard-based test charts suitable for confirming the National Tax Agency's scanner preservation requirements. In addition to clarifying the confirmation of digitization work results with the resolution chart and text chart, color density chart, etc., these also enable the detection of any evidence of tampering.
Both monochrome and color documents can be checked with a single test chart. The color chart and color image are included in one test chart. The use of the chart for both monochrome and color documents can boost work efficiency dramatically. One-side or two-side test charts are available for two-sided prints.
A simultaneous two-sided scan can be evaluated, thus improving work efficiency and evaluation accuracy. At the same time, the evaluation of "bleed-through" is also possible.
The quality of kanji and other double-byte characters can be determined easily. JIIMA has submitted its international proposal regarding the chart for its use in determining character quality for Japanese kanji, simplified Chinese, Hangul and other double-byte structures, which has been officially approved by ISO.
---
Test Chart for Digitizing Images (Compliant with JIS Z 6014)
This test chart for digitized images is compliant with JIS Z 6014.
This can be used to check the quality of each device in the analog-to-digital micro image conversion system and image reproducibility. For details, please refer to Pages 31-38 of the June 1998 issue of IM.
This can also be used for the evaluation of facsimile systems and copier equipment.
Film-Type Test Chart (for Photography in 16mm Microfilm with Reel Cartridge)
Paper Test Chart (A4 Size; Printing on High-Quality Coated Paper)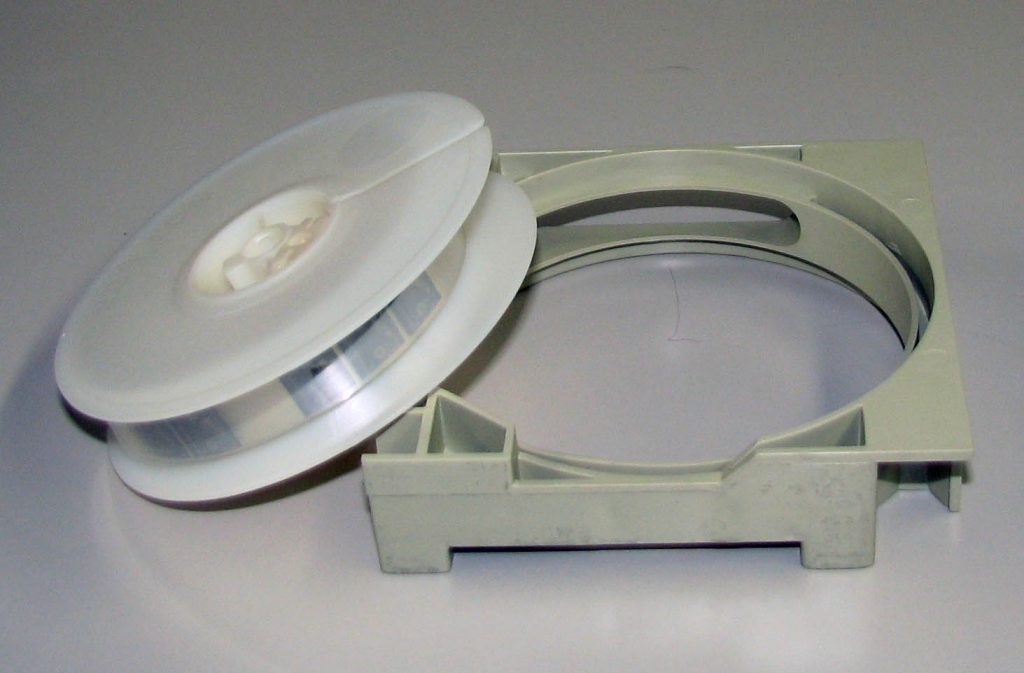 ---
Test Chart A for Microfilm Photo Resolution Capability; JIS Z 6008 Test Chart A (Formerly the JAMA Test Chart)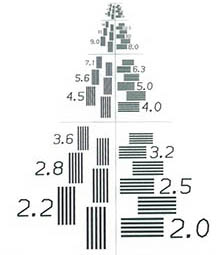 Test Chart for Rotary Microfilm in a Camera (JIS Z 6011; A3 Size; High-Quality Coated Paper)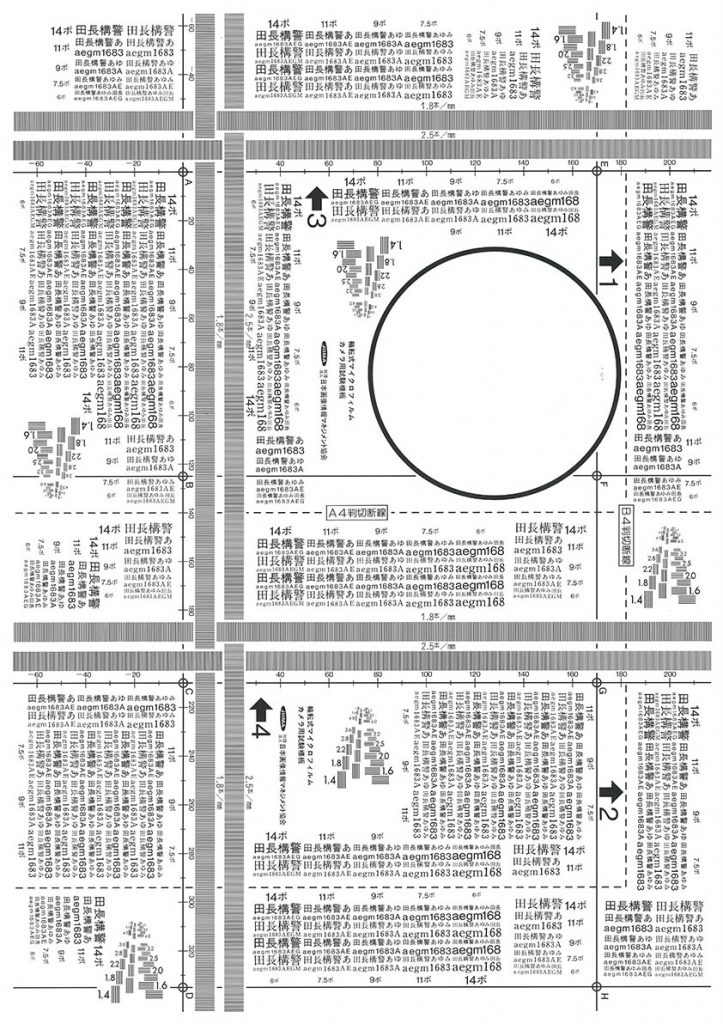 The size of the test chart is A3; however, it can be used for A4 and B4 sizes by cutting along the horizontal and vertical cut lines.
---
JIS-Standard Reflectors (Set of 6% and 50% Reflectors)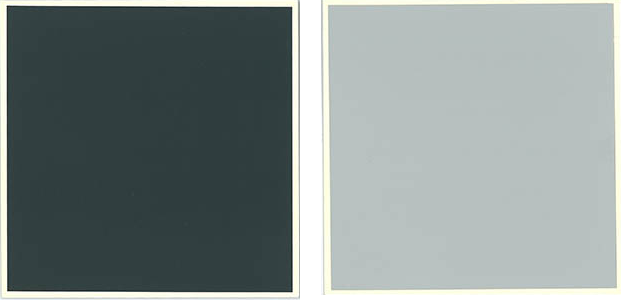 These reflectors satisfy the provisions of JIS Z 7187-1997 (16mm and 35mm silver-gelatin microfilm operating procedures) and JIS Z 6008-1982 (a resolution test chart for microfilming, along with its description and use). Included are a 100 mm ×100 mm square; one reflector with a 6% reflection rate and another with a 50% rate.